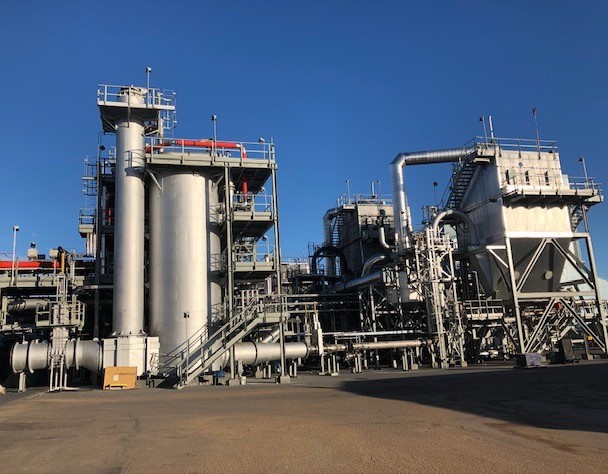 After 3 years of planning and 16 months of construction, we are excited to finally say that we have safely and successfully completed construction of our 6th Unit! This expansion provides us with an additional 9,000 MT of capacity, which means we can now produce 54,000 MT of our THERMAX® brand of thermal carbon black products per year!
More than 50 individual contractors made it possible for us to complete this massive project. We are proud to say that most of the contractors, specialized equipment, structural steel and piping was sourced locally.
The following contractors and partners were integral in the success of our expansion, and we'd like to thank them for a job well done!
Ken Streich Consulting
Spartan Controls Ltd.
Pronghorn Controls
Hranco Industries Ltd.
Da-Gen Heating & Cooling Ltd.
Riverside Masonry
CALC Engineering Inc.
Engage Construction Management & Consulting Inc.
ERB Construction Ltd.
Carrier Vibrating Equipment, Inc. and Vibranetics Division
Midwest Surveys Inc.
Whiteline Shelters & Tarps Ltd.
United Rentals of Canada Inc.
Lambert Trucking
Cleanrite Services
Envirogeotech Consulting Inc.
Chinook Industrial Ltd.
Lostt Rentals Ltd.
Industrial Backhoes Ltd
Pro Comm Solutions Ltd.
G.V. N. Structures Inc.
TASCS Inc.
Sanatec Environmental
Kruse Glass and Aluminum
The Container Guy
Pronghorn Controls
Rowe Insulation
Berger's Plumbing & Company
AlumaSafway Scaffolding Systems
FEECO International
ERB Construction Ltd.
Pahl Fire Protection Ltd.
Niwa Crane Ltd.
Clayburn Refractories
Affordable Paving (2012) Ltd.
Westcomm Pump & Equipment Ltd.
Mettler Toledo Inc.
Superior Propane Inc.
Cooper Equipment Rentals Ltd.
Align Doors & Maintenance Ltd.
Hayley Industrial Electronics Ltd.
Chisholm Lighting Contractors Ltd.
KMN Inspection & Consulting Ltd.
LMT Enterprises Ltd.
Score Energy Products Inc.
Practitioner Inspection
Ceda Industrial Services LP
Exact Automation Inc.
Kristian Electric Ltd.
Wajax Industrial Components
Safety Boss inc.
Chamco Industries Ltd.
SR Engineering Inc.
Brovac Mobile Vacuum Services